Sesame Street -- 40 years of laughs, joy, and communism?
(Read article summary)
Sesame Street is 40 years old today. Google is celebrating Sesame Street's anniversary with a new logo. While others are not so happy.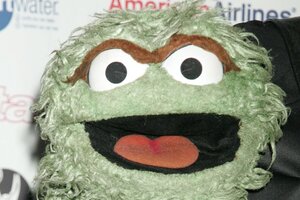 NEWSCOM
Happy Birthday, Sesame Street.
The timeless children's program celebrated its 40th anniversary Wednesday to much celebration. Even Google commemorated the big day by changing its logo on their home page.
But not everyone's happy with the PBS offering. One high profile website featured a blog questioning the political leanings of everyone's favorite trash-loving muppet. Or perhaps, more accurately, the writers behind Oscar the Grouch and all the gang at Sesame Street.
Surprising? Well, when you produce a satirical skit on a network that receives a chunk of its funding from the federal government, some people are going to get upset. Especially if the satire doesn't bend their way.
Controversial video exposed
One such skit, apparently produced two years ago but was re-released last week, is in the crosshairs of a conservative blogger who penned a 900-word manifesto Wednesday condemning the program.
No, the video doesn't contain footage of Oscar attending an ACORN meeting or delivering a sermon with Jeremiah Wright. Instead, he appears at the helm of a new news network he founded. Oscar calls it GNN -- the Grouchy News Network (see a portion of the video below).
But there's a problem with GNN. An unnamed muppet in the skit calls Oscar to complain that his programming isn't grouchy enough. So she's switching to another network.
"I am changing the channel," she rants to Oscar. "From now on I am watching 'Pox' News. Now there is a trashy news show."
---