Et tu lefties? Obama takes flak from his liberal 'friends'
(Read article summary)
They supported him during the presidential campaign, but liberals are beginning to criticize Obama on everything from Afghanistan to the economy to climate change.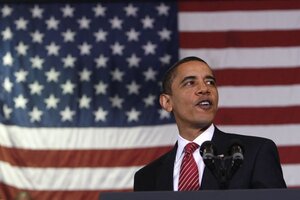 Jim Young/Reuters
From the start of his presidency (and even before) Barack Obama has been mercilessly hammered from the right. He's a socialist! No, he's a fascist! No surprise there. It's a stir-'em-up industry that keeps many bloggers and talk show hosts gainfully employed.
But these day, Obama's getting it from the left as well -- an annoyance that's moving toward anger in some cases and that could result in speed bumps if not derailment of some key policy goals.
Pick an issue -- war in Afghanistan, healthcare reform, civil liberties, gay rights, closing the Guantanamo prison camp, global warming, the economy -- and the criticism from liberal activists and commentators is growing at a time when Obama's job approval rating has just dropped below the 50-percent mark, according to a Gallup Poll out Friday.
Some examples:
• New York Times columnist Paul Krugman, a Princeton economist and Nobel Prize winner, says the financial bailout has been "botched."
---