Gate-crashing Salahis find reality TV not all its cracked up to be
(Read article summary)
Tareq and Michaele Saheli, the White House gate-crashers, wanted a reality TV show. Now, they find their lives under intense media scrutiny.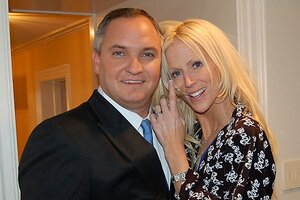 Robert Devaney/Reuters
Tareq and Michaele Salahi – who got into last week's White House state dinner without an invitation – are learning the hard truth that you can become a star of reality TV without giving your consent.
The show they aspired to be on is Bravo's "Real Housewives of D.C." The show they're featured on instead appears on many networks, and in print as well, and might be called "The Media Shines the Light of a Thousand Suns on a Hapless Couple's Life".
In the latest installment, the Washington Post has discovered that Michaele Salahi apparently was never a Washington Redskins cheerleader, as she had claimed.
Some may say this is only fair, as the Redskins themselves are so bad this year that they are an impostor of a football team. But the Redskinettes take their heritage seriously. As one actual cheerleader told the Post, "It's really a privilege to wear the burgundy and gold. So I'm resentful...."
Ms. Salahi had managed to crash her way onto the Redskin cheerleaders' alumni squad, insisting that she had served on the first cheerleader team back in 1991. But there is no record of that, and none of the other cheerleaders remember her.
Meanwhile, the state of Virginia has begun investigating the Salahis' alleged charitable ventures.
The state's Department of Agriculture and Consumer Services issued a terse two-sentence statement saying that it has begun probing the fund-raising practices of America's Polo Cup, a Salahi-owned entity.
---