More bad poll numbers for Obama - six year olds with crayons again?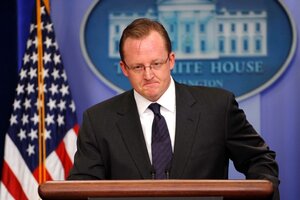 NEWSCOM
Maybe six-year olds are working for Quinnipiac too...
A day after White House Press Secretary Robert Gibbs criticized a Gallup poll showing President Obama's approval rate at a low point in his presidency, another poll is out with more dismal numbers.
Yesterday Gibbs was asked about Gallup's daily poll numbers which gave Obama a 47 percent approval rating on Monday. These daily numbers, of course, fluctuate. Yesterday, Obama's numbers were back up to 50 percent.
Gibbs blew off the Monday's marks with a quippy, "I am sure a 6-year-old with a crayon could do something not unlike that."
"I don't put a lot of stake in, never have, in the EKG that is daily Gallup trend," he continued. "I don't pay a lot of attention to the meaninglessness of it."
New poll
When Gibbs takes the podium today, he may have to focus some more attention on the meaninglessness of those polls. The Quinnipiac University Polling Institute released a new survey today which gave the president a 46 percent approval rating.
"President Barack Obama's job approval rating continues to slide and it's evident the deterioration stems from voter unhappiness over domestic policy matters," said Peter Brown, assistant director of the Quinnipiac University Polling Institute.
---