Sarah Palin blasts '60 Minutes,' Obama in Fox News debut
(Read article summary)
In her Tuesday night debut as Fox News contributor on "The O'Reilly Factor," Sarah Palin rebutted a "60 Minutes" segment on her and criticized President Obama's performance.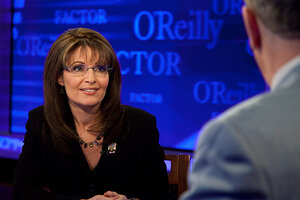 Fox News Channel's The O'Reilly Factor/Reuters
Sarah Palin versus "60 Minutes" – it's on! You betcha.
Ex-governor of Alaska, ex-VP candidate, and newly installed Fox News personality, Sarah Palin, on Tuesday night blasted the venerable CBS News flagship for a report on her that she labeled "BS."
"I had been warned not to watch it," said Ms. Palin of the "60 Minutes" segment in question.
That segment dealt with a new book on the campaign that alleges, among other things, that Palin did not know why North and South Korea are two different countries.
"That is a lie," said Palin.
Host Bill O'Reilly of "The O'Reilly Factor" said that Palin couldn't have bested Vice President Biden in a debate if she were really that dumb, and offered her his show as a base for future anti-"60 Minutes" offensives.
"You now have a forum here at Fox News where you can immediately neutralize '60 Minutes'," Mr. O'Reilly said.
Outside of this metaphorical lining up of media armies, Palin's appearance was fairly unremarkable, though not what you'd call hyper-articulate. (At one point she talked about "uncomfortableness" with administration policies.)
---