How Martha Coakley misread the tea leaves in Boston Harbor
(Read article summary)
Win or lose, Martha Coakley's Massachusetts senate race campaign will influence Democratic strategy in a tough election year. And the result could have major impact on Obama's agenda.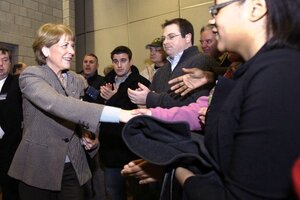 Charles Krupa/AP
Win or lose in Tuesday's Massachusetts senate race, Democrat Martha Coakley may rue a major strategic mistake: Misreading the tea leaves stirring again in Boston Harbor.
For an out-of-left-field state senator named Scott Brown – a purplish Republican in the bluest of blue states – to come close to winning Senate lion Ted Kennedy's long-Democratic seat is stunning. Should he win, analysts agree, it'll be confirmation that the political universe has shuddered and realigned, with major implications for President Obama's progressive agenda in Washington by breaking the Democrats' hold on the Senate.
"If Brown wins this election, it will be the shot heard around the world," Rhode Island Tea Party President Colleen Conley tells the Boston Herald. "This will be a clear indictment of the Obama presidency and the Democratic Congress overreaching."
---
Follow Stories Like This
Get the Monitor stories you care about delivered to your inbox.