Method to the madness of Carly Fiorina's 'demon sheep' campaign ad?
(Read article summary)
It's not usually a good sign when your opponent cheers your campaign ad. But hey, the TV spot is getting a lot of free media attention for US Senate candidate Carly Fiorina.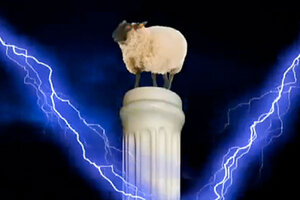 Screen grab from Youtube
Is Carly Fiorina's "demon sheep" political attack ad really that bad?
In case you haven't heard, Ms. Fiorina, former CEO of Hewlett-Packard and ex-John McCain economic adviser, is running for the US Senate in California. Earlier this week her campaign released an ad that depicts former US Rep. Tom Campbell, an opponent in the GOP primary, as a glowing-eyed, demonic wolf in sheep's clothing.
Initial reviews were scathing, including, we admit, ours. And let's be honest: The ad really is a cargo ship full of crazy. Words like "purity" and "piety" flash scarily on screen, while a demon sheep falls from a Greek pedestal. Representative Campbell's tax record is mentioned, and then the demon sheep reappears, this time as an actor wearing what appears to be Sonny Bono's old sheepskin vest.
The point of the thing is to label Campbell as a FCINO – Fiscal Conservative in Name Only. But even to say that the ad has "a point" is to imply that it has narrative coherence. Which it doesn't.
Yipee, says the Campbell camp
Campbell's campaign is gleeful.
---