Debra Medina self-destructs on Glenn Beck radio show
(Read article summary)
Texas gubernatorial candidate Debra Medina appeared on the Glenn Beck radio show this morning and made a lot of news when she wouldn't take a position on whether the US government was behind the 9/11 attacks on the World Trade Center.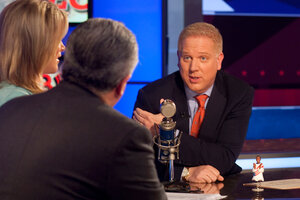 NEWSCOM/FILE
This candidacy will self-destruct in five seconds...
Texas Republican gubernatorial candidate Debra Medina imploded on the Glenn Beck radio program this morning when she said she didn't have an opinion on whether the US government was behind the 9/11 attacks.
Medina, who has literally come out of nowhere to quickly become a legitimate candidate in the Republican primary, first laughed when Beck said he had received emails from listeners saying she was a "9/11 truther."
"That's the first time I've heard of that accusation," she said, not exactly denying the charge.
Government conspiracy?
So Beck asked her straight up: "Do you believe the government was in any way involved in the bringing down of the World Trade Centers on 9/11?"
Easy answer, right? Nope.
"I think some very good questions have been raised in that regard," Medina replied. "There are some very good arguments, and I think the American people have not seen all of the evidence there, so I have not taken a position on that."
That answer caused a stir in the studio. Beck quickly followed up by asking her if she would disavow any of her staff if they were "9/11 truthers."
"Well, you know, that's a federal issue. We're very focused on issues in Texas, on Texas state government," she said. "I'm certainly not into mind control or thought policing people. "We've got a very diverse team in this state and that's because Texans are standing shoulder to shoulder to support and defend the Constitution. I frankly don't have time, you know, to go through and do psychological testing on people and know every thought or detail that they have."
Buh-bye
After that, Beck politely thanked Medina for appearing on his program and dismissed her future political hopes.
---