Mitt Romney attacked by irate passenger on airplane
(Read article summary)
Former Republican presidential candidate Mitt Romney was assaulted on an airplane yesterday after asking a fellow passenger to raise his seat back before the flight took off.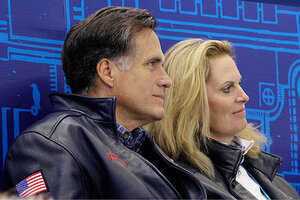 Amy Sancetta/AP
UPDATE: Mitt Romney will not press charges against the assailant. Click here for more.
Mitt Romney's in the news this morning due to a disturbance on an airplane. No, he wasn't thrown off the plane for being too fat like film director Kevin Smith, but because an irate passenger took a swing at him.
Seems that Romney and his wife were flying back from the Vancouver Olympics on an Air Canada flight when the former presidential candidate asked the guy in front of him to raise his seat back before take-off.
According to Canada's Globe and Mail, the request enraged the passenger and he became "physically violent." Romney reportedly did not retaliate but let the crew take care of things. The plane returned to the gate and the man was arrested by the Royal Canadian Mounted Police.
---