Desiree Rogers out, Julianna Smoot in (but scandal has nothing to do with it)
(Read article summary)
Julianna Smoot is replacing Desiree Rogers as the new White House social secretary but it has nothing to do with the gate crashers incident.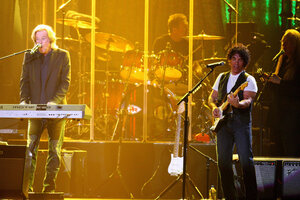 NEWSCOM
It's almost as though they already had somebody lined up!
The White House announced Saturday that they've filled the position of social secretary. You remember, just yesterday the outgoing social secretary announced that she would be outgoing.
Welcome Julianna Smoot to the White House and say so long to Desiree Rogers.
If you recognize Smoot's name it's because she was a big-wig in the Obama campaign. She served as his national finance director. Smoot takes the place of Rogers who is departing but not because of any controversy -- like that gate crasher incident at the State Dinner a couple months ago.
Who says? Well, White House Press Secretary Robert Gibbs, for one. He was asked that question yesterday.
"I don't think it did, no," Gibbs said when asked about it yesterday.
Ask Desiree
If you don't believe him, ask Rogers herself. She told Chicago Sun-Times reporter Lynn Sweet that this just ain't so.
"The incident at the State Dinner was not a deciding factor," Rogers said.
"This is a good time for me to explore opportunities in the corporate world," she added.
Skeptical
---