Obama on tsunami warning: Listen to local authorities.
(Read article summary)
President Obama stepped outside the Oval Office this afternoon to urge citizens to listen to local officials in light of today's tsunami warning.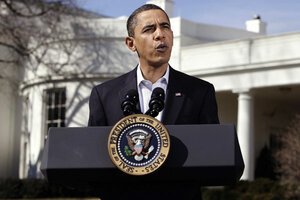 YURI GRIPAS/REUTERS
Pay attention to the local authorities was President Obama's main emphasis this afternoon when he spoke briefly outside the Oval Office to discuss the tsunami warning that's been issued for Hawaii, American Samoa, and Guam following today's massive earthquake in Chile.
Monitor reporter Pete Spotts tells us that the US is better prepared to forecast tsunamis now. Forecasting is one thing. Dealing with a tsunami is another.
So listen to the locals, Obama said.
"I urge citizens to listen closely to the instructions of local officials, who will have the full support of the federal government as they prepare for a potential tsunami, and recover from any damage that may be caused," he said.
"I also urge our citizens along the West Coast to be prepared as well, as there may be dangerous waves and currents throughout the day. Again, the most important thing that you can do is to carefully heed the instructions of your state and local officials," he added.
IN PICTURES: Images from the 8.8 magnitude earthquake in Chile
---