Liz Cheney: Taking flak from the right as well as the left
(Read article summary)
Dick Cheney's daughter Liz has become a political lightning rod. Now she's going after Justice Department lawyers who represented terrorist suspects. Not all conservatives are happy with that.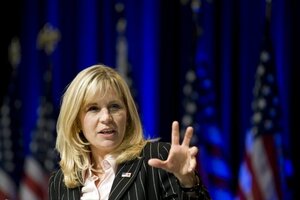 Cliff Owen/AP
Like her father before her, Liz Cheney has become a political lightning rod. No surprise, perhaps, but now the sparks are coming from the right as well as the left.
On her "Keep America Safe" website and through conservative media, the former vice president's daughter most recently has been hammering away at Justice Department lawyers who previously represented Guantánamo detainees.
The "Al Qaeda Seven," she calls them, portrayed in silhouettes alongside a photo of Osama Bin Laden and with creepy background music. (More Monitor reporting on the Cheneys' attacks on Obama here.)
Shades of 'Tail-Gunner Joe'
This has brought pushback from the left, naturally, generally boiling down to charges of "McCarthyism."
Writing at Salon, Glenn Greenwald calls the "Al Qaeda Seven" video by Cheney's group "certainly one of the more repugnant political ads of the last decade, if not the most repugnant."
---
Follow Stories Like This
Get the Monitor stories you care about delivered to your inbox.