Mitt Romney: Tea Party movement is great as long as they vote Republican
(Read article summary)
Mitt Romney is supportive of the Tea Party movement but draws the line when it comes to a third party.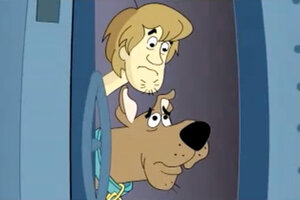 YouTube
Hard hitting interview? Well, let's just say the co-hosts of Newsmax TV weren't exactly Mike Wallace and Morley Safer.
They were more like say.... Shaggy and Scooby Doo.
Former presidential candidate Mitt Romney's appearance on the conservative website Monday wasn't what you would call grueling. He faced questions like: "What is your take on President Obama?" and was asked for this thoughts on Sarah Palin.
That's not to say the whole thing was a waste of time. The ultra-conservative program did get interesting when it ended he was asked about the Tea Party movement.
Tea Party
Does he think it will have an impact on the upcoming election? Of course. But the Tea Party'ers need to play by the rules, he said. If they win in a primary, great. If not, toe the line.
"If we go in the direction of dividing our conservative effort in the general elections, why we'll just basically turn the country over to Barack Obama, Nancy Pelosi, and Harry Reid and that would be very sad indeed...," he said.
If the Tea Party candidate doesn't fall in line? "Divide and fail is the result," he said.
It's understandable what he's saying. If there was a substantive organization that could take away votes from the Democratic party you'd see those on the left saying the same thing.
Loss to Ron Paul
Especially because Romney doesn't believe there is a significant third party possibility out there. Even in light of Ron Paul's big straw poll win -- over him and the entire field -- at the CPAC convention last month.
---