Healthcare reform: Obama to stick close to home to await vote
(Read article summary)
President Obama postpones next week's trip to Guam, Indonesia, and Australia. He'll stay around to help push a healthcare reform bill to the finish line.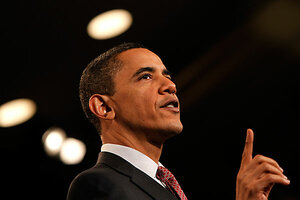 Charles Dharapak/AP
Have you ever delayed a business trip because some of your associates couldn't get their act together? Then maybe you know how President Obama feels.
On Friday Mr. Obama called off a scheduled week-long swing through Guam, Indonesia, and Australia previously set to begin March 18. Now he'll leave on March 21 instead. Probably.
The reason for the change? Congress is still struggling with healthcare reform, the president's signature domestic issue. Obama wants to stick around to lobby lawmakers and push a healthcare bill over the top.
The worst part for the Obamas is that the rest of the family was going to tag along, and now it won't be able to.
"The first lady and the girls will not be on the trip," said White House spokesman Robert Gibbs via Twitter.
That means Malia will have to look up Wayang on the Internet if she wants to write a school report about it, instead of drawing on her own experience. (It's Indonesian shadow puppet theater.)
---