Joe Biden's potty mouth: In Delaware, this is not news
(Read article summary)
When Joe Biden dropped an expletive during Tuesday's signing of the healthcare reform bill, folks in his home state of Delaware weren't surprised.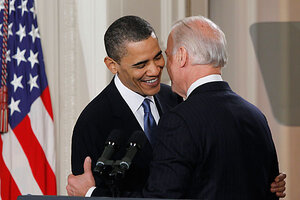 Jason Reed/Reuters
Anybody with X-ray hearing might have noticed that Vice President Joe Biden dropped a major expletive during the signing of the historic healthcare reform bill on Tuesday.
Mr. Biden, speaking near an open mic, called the bill "a big [bleeping] deal." (See video below.)
The White House confirmed – and apparently approved – the language. Soon after the event, press secretary Robert Gibbs tweeted: "And yes, Mr. Vice President, you're right …"
Folks in Delaware, Biden's home state, weren't surprised. Aside from his regular foot-in-mouth moments, he is also famous for his salty tongue.
"More than his OTHER kinds of gaffes, I always thought Joe Biden's use of such language might get him into trouble, frankly, during his presidential run(s)," writes Wilmington, Del., radio interviewer Allan Loudell on his blog at WDEL.com.
---