Sarah Palin nature series ruffling environmentalist feathers
(Read article summary)
An environmental group is mounting a campaign to get TLC's corporate parent to drop Sarah Palin and her new nature series. But has the group watched any of the channel's other programming lately?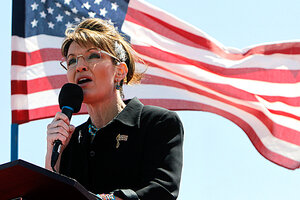 Jae C. Hong/AP/File
OK, maybe Sarah Palin is no David Attenborough.
Who's David Attenborough? He's that Brit with the plummy voice who's narrated nature documentaries for some 50 years. The kind that run on BBC and have dialogue like, "and the minke whales are feasting on the plankton."
Ms. Palin has her own new nature series, if you haven't heard. It's called "Sarah Palin's Alaska," and it's going to air on TLC, formerly known as The Learning Channel. We're guessing plankton isn't going to figure much in the plot.
But is Palin actually unfit to host such a show? The environmental group Friends of the Earth thinks so. They sent out a press release recently to that effect.
Her denial that humans contribute to climate change means she's anti-science, according to Friends of the Earth. They're mounting a campaign to get TLC's corporate parent, Discovery Communications, to drop her.
"For a corporation that has built its reputation on educating viewers about scientific realities, the decision to give Palin a platform is an alarming detour," says Friends of the Earth.
Hmm. Have they actually, you know, watched any Discovery Communications shows lately?
---