Twitter hits Library of Congress: Would Founding Fathers tweet?
(Read article summary)
The Library of Congress plan to archive all communication on Twitter has us wondering how history would sound if Twitter had been around in 1776.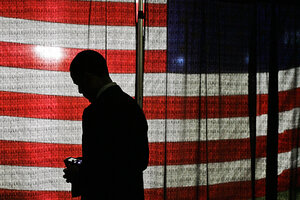 Alex Brandon/AP/File
From Thomas Jefferson's library to Twitter – the US Library of Congress marches on.
Yes, the institution that in 1815 bought 6,487 of Jefferson's books to restore holdings burned in the War of 1812 announced on Thursday that it will archive every public tweet sent since March 2006.
Twitter's files have extraordinary potential to help anyone researching contemporary life, said Librarian of Congress James Billington in a statement announcing the move.
"Anyone who wants to understand how an ever-broadening public is using social media to engage in an ongoing debate regarding social and cultural issues will have need of this material," said Mr. Billington.
Hmm – by our count that sentence is about 180 characters. And it's clipped from a quote that's a whole paragraph. Billington is going to have to start tightening things up if he's going to get in the 140-character-per-message Twitter spirit.
Jefferson got $23,940 for his stacks when the Library of Congress bought them to replace material the British had torched. The books included works of history, literature, and natural philosophy in a number of languages.
Thucydides translated from Greek into English by Thomas Hobbes, Plutarch in Latin – that sort of thing.
Now these will be supplemented with, among other things, the tweets of Canadian pop star Justin Bieber. ("...Time for school. Back to learning. Haha.")
---