Demon Sheep: the sequel, starring Carly Fiorina
(Read article summary)
Former Hewlett-Packard honcho Carly Fiorina, a candidate for US Senate, put out a bizarre political ad depicting a Republican primary competitor as a red-eyed sheep. Now, she's the 'demon sheep' in a Democratic video.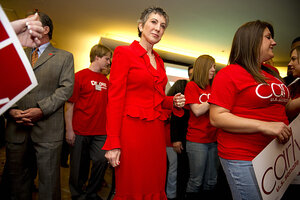 Newscom
The "demon sheep" are b-a-a-a-a-ck.
Democrats in California and Washington have produced a sequel to the bizarre political ad Republican Senate candidate Carly Fiorina put out in February, depicting primary competitor Tom Campbell as a red-eyed sheep. Or actually, as a red-eyed man dressed up as a sheep who is – and here's the scary part – a fiscal liberal.
The original ad went viral, at least in the political world, and raised the ultimate question: Is Ms. Fiorina trying to lose the election, or what? Or maybe it was so out there, in a cheesy but entertaining way, that it showed Fiorina was actually kind of cool. Either way, the ad generated buzz.
Now the California Democratic Party and the Democratic Senatorial Campaign Committee have revived the genre with "Demon Sheep II: The Fleecing of California." In the sequel, Fiorina is a red-eyed ewe in pearls, flying around in her seven corporate jets and lounging in her two yachts.
As a former CEO of Hewlett-Packard who was ultimately fired, Fiorina is taken to task for her record – 28,000 California workers fired, the faux movie trailer asserts, their jobs sent to China, India, and Europe. The workers are depicted as sheep on the Great Wall, the Taj Mahal, and Eiffel Tower. The people of California are also sheep, natch.
---