Five lessons from Tuesday's primary election results
(Read article summary)
Primary election results from Pennsylvania, Kentucky, and Arkansas give a snapshot view of the state of the electorate.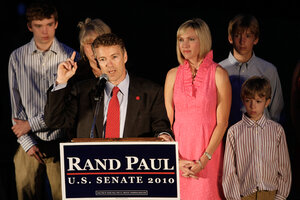 Ed Reinke/AP
For Democrats and Republicans – incumbents and establishment candidates alike – the outcome of Tuesday's primary election results could not be clearer: watch out. Recent elections from Massachusetts to Utah had suggested that American voters were in a "throw the bums out" mood. Tuesday added an exclamation mark.
Here are five things to take away from the primaries Tuesday.
It's an 'anti' mood out there …
That is, anti-incumbent, anti-establishment, anti-Washington. The recession has left in its trail soaring unemployment, plummeting 401(k)s, and a very angry electorate.
In this kind of climate, an impressive congressional pedigree can in some cases be a millstone more than a life preserver. Democratic Sen. Arlen Specter, who was elected to the Senate in 1980, lost to upstart Rep. Joe Sestak (D) in Pennsylvania. And sitting Sen. Blanche Lincoln (D) of Arkansas was forced into a June 8 runoff by Lt. Gov. Bill Halter. At this point, polls show either of them losing to the Republican candidate by a wide margin in the general election.
"Tuesday night gave us a sneak preview of the fall midterm contests," wrote Democratic political strategist Donna Brazile in the New York Times. "Be prepared for a tidal wave of voter rebellion."
---