White House columnist Helen Thomas resigns over Israel remarks
(Read article summary)
Reporter Helen Thomas apologized for her controversial remarks about Israel, but then abruptly resigned her post. She has covered the White House since 1960.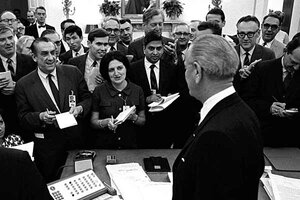 Frank Wolfe/LBJ Library/Reuters
Helen Thomas today is learning something many of the people she interviews have long known: say the wrong thing, and you can jeopardize your career in an instant.
Ms.Thomas, the longtime Washington journalist, resigned Monday from her post as columnist for Hearst News Service, after she made remarks about Israel that many of her colleagues, and the White House itself, denounced as offensive.
Now perhaps she knows how some of the people she covered during her long and distinguished career felt when the harsh spotlight of the press shown on them.
Consider the case of Trent Lott. Remember him? Sen. Lott (R) of Mississippi rose to the post of Majority Leader in 2001. Then he made a remark which seemed sympathetic to the South's segregated past at a 100th birthday party for Sen. Strom Thurmond of South Carolina. He resigned his leadership post shortly thereafter.
---