Bob Etheridge incident: What does he have to apologize for?
(Read article summary)
Rep. Bob Etheridge (D) has already apologized to two young men with whom he tussled after one asked the congressman if he supports Obama's agenda. Setup or no, the incident holds an old lesson for those in the public eye.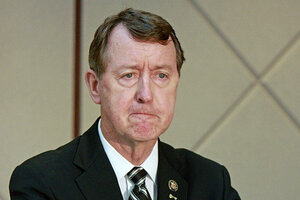 John Rottet/The News & Observer/AP
What does Bob Etheridge have to apologize for? He needs to acknowledge the obvious: You can't go around grabbing and slapping at people on the streets of Washington, even if you've been a member of Congress for 14 years.
Let's make that, especially if you've been a member of Congress for 14 years. Because the second thing Representative Etheridge (D) of North Carolina has to apologize for is forgetting the first rule of political behavior: In public, always behave as if you're on camera. Because you probably are.
Shall we recap the action to this point? On Monday, websites owned by conservative Web entrepreneur Andrew Breitbart posted several short videos depicting an altercation between Representative Etheridge and two young men. One video begins with Etheridge, who's trudging down a Washington street and obviously not paying much attention to his surroundings. Then one of the young men asks the lawmaker if he supports Barack Obama's agenda. Etheridge quickly blows up, grabs the camera, and starts wrestling the young man around, asking who he is and whom he represents. Another angle, taken from a camera held by the second youngster, shows Etheridge shaking the first by the collar of his Capitol Hill-issue blue blazer.
---