Joe Barton: Who is defending him?
(Read article summary)
Rep. Joe Barton apologized to BP CEO Tony Hayward Thursday for what he termed a '$20 billion shakedown' of BP by the White House. The Texan was forced to recant, but he has his defenders.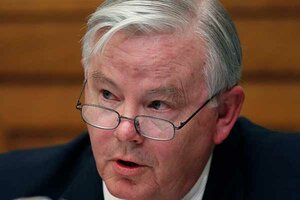 Alex Brandon/AP
Joe Barton is in big trouble. Barton, a Republican member of Congress from Texas, became infamous in a moment on Thursday when he apologized to BP chief executive Tony Hayward for what Barton termed a "$20 billion shakedown" by the White House.
This refers to the $20 billion escrow fund that President Obama has jawboned BP into establishing.
In political terms, apologizing to a company whose US poll numbers are so bad they make journalists look popular is a really bad idea. Representative Barton found this out when, with the hearing at which he made his remark still going on, he was hauled into the office of House minority leader John Boehner of Ohio.
Representative Boehner told Barton to withdraw his statement or lose his prized position as top Republican on the House Energy and Commerce panel. So, later in the day Barton apologized for his apology.
Taking back something that was part of your written statement at the hearing opening – not just some off-the-cuff blather to a reporter in the hallway? Whoa. That's not just eating your words. That's like having them cut up and fed to you one by one in front of an audience of interns on the National Mall.
---