With Joe Barton's BP apology, Republicans' points lost in oblivion
(Read article summary)
Republican leaders, in damage-control mode, forced Rep. Joe Barton to apologize for his apology Thursday to BP. Will anyone remember GOP lawmakers' other points?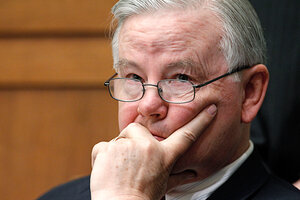 Haraz N. Ghanbari/AP
Before Rep. Joe Barton's apology to BP heard 'round the world, Republicans were trying to make a couple of points about the Gulf oil spill – points now lost in a blizzard of charges that the GOP is in the pocket of Big Oil.
Other Republicans on the House panel that grilled BP CEO Tony Hayward on Thursday focused on two themes: One, the spill, for which BP must be held responsible, is a disaster for people in the Gulf region, but so is the president's offshore drilling embargo. And two: Federal regulators are responsible for oversight of BP's actions in the Gulf, so why isn't Congress grilling them, too?
House Republican leaders quickly recognized the political peril of Representative Barton's charge that Congress owed BP an apology for White House pressure on the firm to establish a $20 billion escrow fund – a "shakedown" – to help victims of the spill. They gave the Texas Republican an ultimatum: Apologize for the apology – and quickly – or lose his position as top Republican on the House Energy and Commerce Committee.
---