LeBron James: The politics of The Decision
(Read article summary)
LeBron James can never run for Senate in Ohio after Thursday's announcement that he's heading for Miami.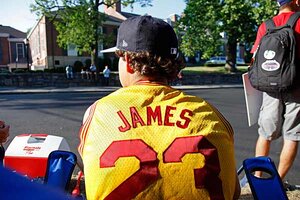 Craig Ruttle/AP
All-universe basketball hegemon LeBron James is moving from the Cleveland Cavaliers to the Miami Heat. What does that mean for the Republicans' chances of winning back the House this fall?
OK, OK, so maybe those two sentences are not exactly, you know, related. But it's pretty slow in Washington at the moment, and now that Anna Chapman has gone back to Russia, we have to talk about the political implications of something. Plus, lots of politicians lobbied Mr. James in an effort to win him for their states. President Obama even made a pitch for his hometown Chicago Bulls.
So here are three LeBron-related political talking points. Discuss.
LeBron James can never run for the Senate in Ohio. Until yesterday, James was perhaps the most popular person in Ohio. He's dropped to the least popular in a day. Talk about a slide in the polls.
---