Bristol Palin and Levi Johnston reunite: What it means for Sarah Palin
(Read article summary)
Bristol Palin and Levi Johnston – former boyfriend and father of her son – have reconciled and could be married in six weeks. Politically speaking, is this good for Sarah Palin or Roger Clinton redux?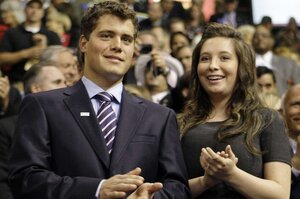 Charles Rex Arbogast/AP/FILE
Bristol Palin and Levi Johnston are engaged again, and we're here to get the discussion rolling on the most important question raised by this exciting news item.
No, it's not, "WHAT IS SHE THINKING???" We're not that kind of blog. It's, "What does this mean for Sarah Palin's political career?"
After all, ex-Governor Palin appears to be positioning herself to be able to run for president in 2012, if she wants to. The return of Levi is a distraction. It's a disturbance in her career's narrative arc. Palin's preparing to read for a role in a Shakespearean drama, and suddenly Shaggy from the "Scooby Doo" movies has reappeared on stage.
Here at Vote we're of two minds about this event's consequences. So we'll present both of them. You decide.
Why this helps Sarah Palin
The Bristol-Levi reengagement helps Bristol's mom because it will humanize her.
Today Levi says he was hurt and angry after breaking up with Bristol after the birth of their son, Tripp. He acknowledges that he said things about Sarah Palin that weren't true. Levi and Bristol told Us Weekly that they reconnected while working out a custody agreement and now hope to get married within six weeks.
---