Malia Obama's summer: braces, camp, and a growth spurt
(Read article summary)
Malia Obama, the president's oldest daughter, will spend a month at summer camp this year – her first long venture away. Her dad 'may shed a tear.'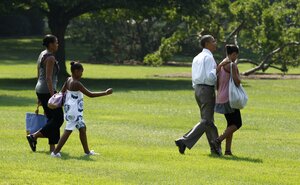 Kevin Lamarque/REUTERS
Just a few days ago, I called the First Lady's office to ask about the Obama girls. What are Malia and Sasha's plans for the summer? I asked. Can't tell you, came the reply. Just imagine if it came out, for example, that they were going away to camp. That would set off an all-out feeding frenzy of media trying to figure out which camp, a diligent press aide informed.
Well, it turns out 12-year-old Malia Obama is going to overnight camp for the first time, and for a whole month, her dad revealed Thursday in an interview with NBC. That's putting a bit of crimp in the Obama family's vacation plans.
"We're going to be trying to figure out where we're going to be able to take some time over the course of the summer," President Obama said on the eve of a weekend family getaway to Bar Harbor, Maine. "But a month of it's going to be taken up with Malia going away for camp, which she's never done before. And I may shed a tear."
IN PICTURES: Presidential vacations
No word on what nine-year-old Sasha's doing this summer. But, as is usually the case, it's the older child who has to break in the parents on all those milestones of childhood. Malia just got braces, and she's already quite tall, her dad revealed at a recent Kansas City fundraiser.
---