Shirley Sherrod: Can she sue Andrew Breitbart?
(Read article summary)
Shirley Sherrod was ousted from her Department of Agriculture job after a conservative website owned by Andrew Breitbart posted a video purporting to show her making racist statements. She could have a defamation case, but not a very strong one, say legal experts.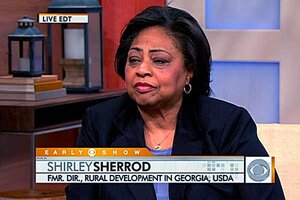 CBSNews.com/AP
Shirley Sherrod has certainly had a wild week. Could she sue somebody for all the pain and embarrassment she's suffered?
The short answer is, yes, she probably could. But should she? That is another question entirely – one with a more complicated response.
Ms. Sherrod, an African-American, was dismissed from her Department of Agriculture job based on a video clip that seemed to show she had discriminated against white farmers. The clip was posted on BigGovernment.com, a web site owned by conservative activist Andrew Breitbart.
But as the world now knows, that clip was taken out of context. It was shorn from a full speech in which Sherrod described overcoming this impulse and helping the white farmer save his farm. Her real message was the need to overcome racial discrimination of all kinds.
Secretary of Agriculture Tom Vilsack, embarrassed, offered her a new job working on race relations for the agency. President Obama called, a move Sherrod felt was an offering of apology.
"I really didn't want to hear the president of the United States say 'I'm sorry' to Shirley Sherrod. I felt he was saying that in his talk by simply calling me," Sherrod told CNN on Friday.
Sherrod has not yet said whether she will accept the job offer. She has indicated in media interviews that she might be open to the notion of suing Mr. Breitbart for the suffering he's caused her.
---