Obama on 'The View': How did he do?
(Read article summary)
President Obama on 'The View' won mixed reviews. But it's the sort of thing presidents need to do these days to get their message out to people who don't watch CNN or Fox News.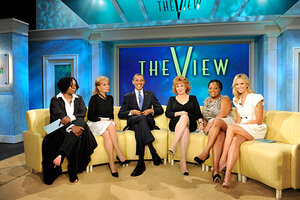 Pablo Martinez Monsivais/AP
Reviews of President Obama on "The View," an ABC daytime chat show, have been appearing from the moment the opening clip concluded. Prior to the actual event, political strategists and media experts alike speculated that the visit to a decidedly "soft news" venue could be either genius or folly.
But the actual post-mortems turned out to be much less extreme. Some deride the glitzy setting, and others approve his upbeat tone, while generally agreeing no major shift occurred in either pro or con.
Most, however, agree on one point: The move is yet another example of how the former US senator from Illinois is redefining the American presidency.
"To be a national political figure these days," says Republican political strategist Jordan Sekulow, "you have to be extremely media-savvy, able and willing to go into situations that are not controlled by your political handlers."
Adds Robert Thompson, founder of the Bleier Center for Television and Popular Culture at Syracuse University: "You can't expect presidents to stand behind podiums at press conferences anymore. They're going to use any and all venues they can to reach people."
---
Follow Stories Like This
Get the Monitor stories you care about delivered to your inbox.