Anthony Weiner rant reveals why nobody likes Congress
(Read article summary)
Rep. Anthony Weiner was apoplectic that Republicans didn't pass a bill to help 9/11 first responders Thursday. But the full story suggests that both parties share blame – and sheds light on why only 11 percent of Americans have confidence in Congress.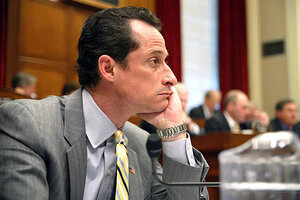 Newscom
Rep. Anthony Weiner's outburst on the House floor Thursday night had all the most compelling elements of political theater. The New York Democrat shouted. He pointed. He flailed. And most importantly, he castigated the opposing party. (See video here.)
But Congressman Weiner's tirade on the House floor – as well as his finger-wagging confrontation with Republican Rep. Peter King Friday on Fox News – is more than just an amusing illustration of an ill-tempered year in Washington.
The reasons why members of Congress are so angry at each other are, in many respects, the same reasons why everyone else is so angry at Congress – an institution in which only 11 percent of Americans have confidence, according to a recent Gallup poll.
---