For Obama, who needs enemies with friends like Ed Rendell and Doug Wilder?
(Read article summary)
Pennsylvania Gov. Ed Rendell has said that President Obama could face a Democratic challenge in the 2012 presidential election. Former Virginia Gov. Doug Wilder suggests that Mr. Obama should dump Vice President Joe Biden. Both are Democrats.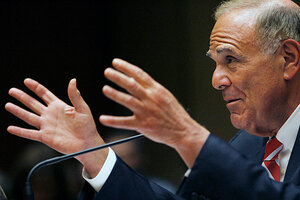 Ann Foster/The Patriot-News/AP
At this point, the chances are slim to none that President Obama will face a serious Democratic primary challenger in his reelection bid, or that he'll dump Vice President Joe Biden from the ticket.
But that hasn't stopped some high-profile Democrats from thinking out loud about both possibilities.
First came Pennsylvania Gov. Ed Rendell (D), who suggested last week on MSNBC's "Morning Joe" that Obama could face a challenge from the left if he does not begin to withdraw US troops from Afghanistan in July 2011, as promised.
IN PICTURES: Inside President Obama's White House
A primary challenge "is really possible," Governor Rendell said, without naming names. "It depends on how far [the war in Afghanistan] deteriorates."
And by the way, Rendell also opined that Obama shouldn't have agreed to go on "The View." "There's got to be a little bit of dignity to the presidency," Rendell grumbled.
---