Obama's birthday: a time to fundraise, count gray hairs
(Read article summary)
President Obama's birthday, No. 49, is an occasion for the Democratic Party to fundraise and rally the grass roots. Obama himself has been taking note of his graying hair.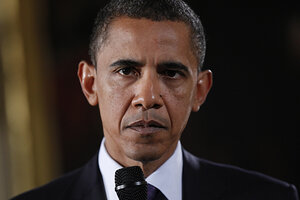 Pablo Martinez Monsivais/AP
We all know that age is just a number. But when you're president of the United States, it's hard to forget when that special day is approaching.
That's particularly the case when the big day, Aug. 4, falls just three months before crucial midterm elections. Organizing for America (OFA), the grass-roots arm of the Democratic National Committee, has been using President Obama's 49th birthday as a rallying point for volunteers to gather in community centers, coffee shops, and homes to eat a little cake – and make phone calls to recruit campaign volunteers.
IN PICTURES: Inside President Obama's White House
"This fall, we need to get as many of the 15 million first-time voters from 2008 as possible back to the polls, and we'll need volunteers in every state to reach them," reads the e-mail from OFA under the subject line, "Can you come to a birthday party for Barack Obama?"
---
Follow Stories Like This
Get the Monitor stories you care about delivered to your inbox.