Michelle Obama, Laura Bush to unite for 9/11 memorial event
(Read article summary)
First lady Michelle Obama and her predecessor, Laura Bush, will speak on 9/11 near the United Flight 93 crash site in Pennsylvania. Will their united front help bring together a divided US?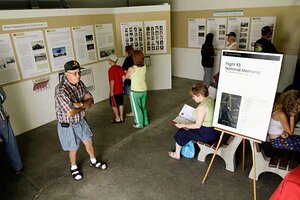 Keith Srakocic/AP
In recent weeks US politics has been roiled by a divisive and angry debate about whether it is proper to build a mosque two blocks from the site of the World Trade Center, destroyed on September 11, 2001.
This story isn't about that. It is about the opposite of that: a bipartisan effort by two of the most respected public figures in America to honor the lives and memories of some of 9/11's most extraordinary heroes.
Yes, this year on September 11, Michelle Obama and Laura Bush both will serve as keynote speakers at a ceremony marking the ninth anniversary of the United Flight 93 crash in Pennsylvania during the 9/11 attacks.
Mrs. Bush had previously said she would appear. Mrs. Obama confirmed her participation on Monday.
The event will be held in Shanksville, Pennsylvania, near where the aircraft went down. A new national park and memorial are under construction at the site.
"We are deeply honored to welcome first lady Michelle Obama, Mrs. Laura Bush, and all of our guests to this important event," said Neil Mulholland, president of the National Park Foundation, in a Monday announcement. "Their show of support honors the lives and memories of these 40 heroes and everyone we lost on September 11, and serves as a valuable reminder of how important this memorial is to preserve and share their story."
---