Social Security: Alan Simpson offends almost everyone with 'cow' quip
(Read article summary)
Social Security is a touchy subject. Alan Simpson, co-chair of Obama's deficit commission, has a colorful mouth and lots of things to say about Social Security. Put the two together and 'poof!' another political brush fire for Obama.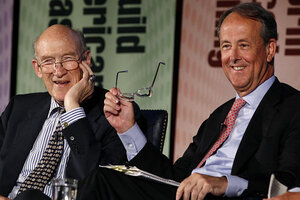 Larry Downing/Reuters
Sen. Alan Simpson (R) of Wyoming has a reputation as one of the funniest men in the US Senate of recent years. He was usually among those politicians former President Reagan gathered at the White House for libations and storytelling when Nancy Reagan was out of town.
But Wednesday, a quip made by the man who is now a co-chair of President Obama's bipartisan deficit commission was no laughing matter – at least to liberal activists and bloggers now calling for his head.
In an e-mail this week to Ashley Carson, executive director of the National Older Women's League (OWL), Simpson compared Social Security to "a milk cow with 310 million [teats]!" Only he didn't say "teats" but something similar, and shall we say, a bit more colorful and perhaps derogatory. And he concluded by telling Ms. Carson to "call when you get honest work!"
---