Glenn Beck rally Saturday in D.C.: Is it a political event, or not?
(Read article summary)
Glenn Beck, rally organizer? The television talk show host will host a rally on the steps of the Lincoln Memorial this weekend. Sarah Palin will appear, but attendees have been asked not to bring political signs.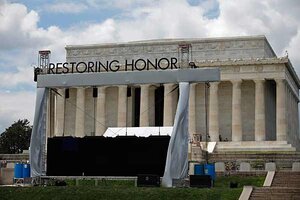 Alex Brandon/AP
Talk show host Glenn Beck is hosting a big rally in Washington this weekend. Will it be political, or not?
Beck himself is a hero to many "tea party" activists and a polarizing figure who on his shows often attacks Obama administration policies. Sarah Palin is scheduled to speak at his Restore Honor rally, and she's pretty political – just look at what's going on in Alaska, where her endorsee Joe Miller has incumbent GOP Sen. Lisa Murkowski on the ropes.
Tea party organizational groups such as FreedomWorks and Tea Party Patriots are providing rally organizers with volunteer and logistical support. And FreedomWorks' own Take America Back D.C. convention is scheduled for Friday evening.
So the whole thing is a tea party gathering, right? Audience numbers and enthusiasm might be a good gauge of the whole movement's strength.
---