Glenn Beck rally on Saturday: Whose honor is being restored?
(Read article summary)
Glenn Beck rally on the anniversary of Martin Luther King Jr.'s 'I have a dream' speech is sparking a racially divisive debate. But the main point may be to rouse conservative voters heading into the midterm elections.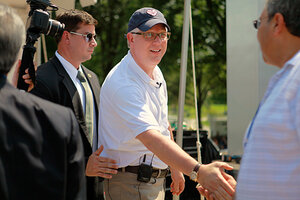 Jacquelyn Martin/AP
A scheduling fluke or a ratings grab by a Fox News channel TV host? A late-summer push to rally the far-right "tea party" faithful as election season swings into high gear or a poke in the eye of history?
All or none of the above?
Calendar, shmalendar, conservative talk show host Glenn Beck says about his choice of Aug. 28 for a Washington rally on the steps of the Lincoln Memorial. According to the Fox commentator, his first choice of days was Sept. 12 – to reflect his 9/12 movement – but that turned out to be a Sunday (he wanted a Saturday). The next best choice of (his) available dates was two weeks earlier, Aug. 28. The fact that the Saturday he happened to choose is the 47th anniversary of Martin Luther King's "I have a dream" speech – also delivered on the steps of the same monument – was serendipity, he says.
Comedy Central's "Daily Show" host Jon Stewart addressed Mr. Beck's scheduling skills on his show Thursday night. "That's weird. How would that happen?" Stewart asked of the scheduling synchronicity. Then he played a clip from Beck. "We picked August 28. It was open in my schedule. When I announced it, The New York Times blogged immediately that this is Martin Luther King Day, and I immediately said, 'Oh my gosh!' "
---
Follow Stories Like This
Get the Monitor stories you care about delivered to your inbox.