Oval Office makeover: more taupe, same old desk
(Read article summary)
The Oval Office makeover completed while President Obama was on vacation includes a new rug, wallpaper, and custom furniture. The 'Resolute' desk, installed in the Oval Office by John F. Kennedy, remains.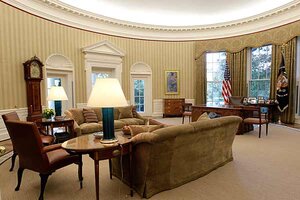 J. Scott Applewhite/AP
Breaking news: The Oval Office has been redecorated! But it's still, you know, oval. The fireplace is in the same place. It's not that different, really. It wasn't an extreme makeover, no matter what other people are saying.
It was more of a refurbishment. Think of it as a notional episode of "This Old Presidential Workspace."
First of all, the color scheme has been toned down, moving toward taupe, away from yellows. That's a bit of a more modern look. There's new wallpaper, and new trim paint. And there's new furniture – a new sofa., some new chairs, and a new coffee table in front of the aforementioned fireplace.
IN PICTURES: Inside President Obama's White House
The centerpiece is a new oval rug. It's wheat, cream, and blue, according to a White House pool report, with five famous American quotes woven into the fabric. "We have nothing to fear but fear itself," from FDR, is one. Another is from Martin Luther King, Jr.: "The arc of the moral universe is long, but it bends towards justice".
The pool report notes that the rug was made and donated by the Scott Group, a Grand Rapids, Mich., manufacturer. (No word on whether it or the new furniture was sprayed with fabric protector. The Obamas do have a dog, after all.)
So why did this happen now? One obvious reason is that Obama has been on vacation, and it's easier to work when the head guy is away. Norm Abram can swing his pneumatic nailer around without the Secret Service going all frantic.
---