Shocker: Republicans overwhelmingly white
(Read article summary)
Republicans are much more likely to be 'highly religious whites' than are Democrats or independents, Gallup data show.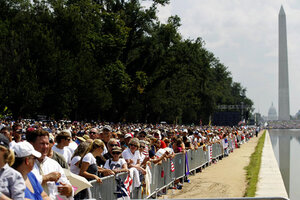 Alex Brandon/AP
This just in: Republicans are disproportionately white and religious. Anyone who watched or attended the Glenn Beck rally on the Washington Mall last Saturday could tell you that. But Gallup has the numbers to prove it.
All told, 47 percent of Republicans are "highly religious whites," compared with 24 percent of independents and 19 percent of Democrats, according to aggregated data from 220,000 surveys of Americans taken between January and Aug. 15 for Gallup Daily tracking.
According to Gallup, nearly nine out of 10 Republicans are non-Hispanic whites. Of those, more than half are highly religious – defined by Gallup as those who say "religion is important in their daily lives and who report attending religious services weekly or almost every week." Hispanic is defined as anyone who identifies as Hispanic, regardless of race.
In its analysis, Gallup identified six religious-partisan groups in the United States. The category with the smallest portion of "highly religious whites" is liberal Democrats (13 percent), followed by moderate Democrats (20 percent highly religious whites), conservative Democrats (24 percent), independents (19 percent), moderate/liberal Republican (30 percent), and conservative Republican (50 percent).
---