An end to the Mayor Daley show after 21 years
(Read article summary)
Chicago Mayor Richard M. Daley said Tuesday that will not seek reelection in 2011. Speculation is turning to Obama Chief of Staff Rahm Emanuel, who has expressed an interest in the job.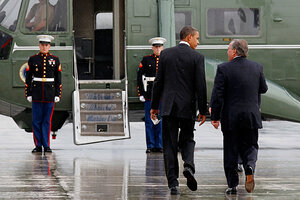 Pablo Martinez Monsivais/AP/file
On a day that marks the start of the traditional fall election season, the biggest political shocker is unrelated to the November election: Chicago Mayor Richard M. Daley won't seek a sixth reelection in 2011.
It's hard to imagine Chicago without a Daley at the helm – a situation that has been the reality for fewer than 13 of the past 55 years. This Christmas, in fact, Mayor Daley will break the record his father, Richard J. Daley, set of 21 years in office.
"In the end this is a personal decision, no more, no less," Daley said in his announcement at City Hall, where he appeared with his wife and adult children, saying he was "ready with my family to begin the new phase of our lives." Simply put, he added, "it's time for me, it's time for Chicago to move on."
But while his news stunned the political set both in Chicago and nationally, pundits are quickly scrambling to begin handicapping an election without Daley, who – despite occasional rumblings of corruption and falling approval ratings – has always been a virtual shoo-in.
The most intriguing suggestion: Obama Chief of Staff Rahm Emanuel, who told Charlie Rose back in April that he would one day love to run for mayor of Chicago, provided Daley left office voluntarily. So far, Mr. Emanuel, who has said he plans to stay in his White House post for at least another year, isn't saying whether he's interested.
---