Newt Gingrich: Did he go too far with comments about Obama?
(Read article summary)
Former House Speaker Newt Gingrich accused President Obama of having a 'Kenyan, anticolonial' worldview in an interview Saturday with National Review Online.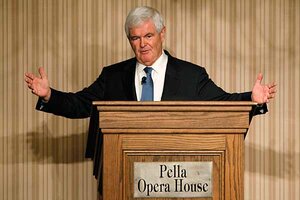 Charlie Neibergall/AP
Has Newt Gingrich gone too far?
The former speaker of the house is getting blasted for his comments over the weekend about President Obama, telling the National Review Online that the president is a con man who has a "Kenyan, anticolonial" worldview.
The comments are part of a pattern of extreme positions lately. Last month, Mr. Gingrich compared backers of the Ground Zero mosque to Nazis, and has said that if Republicans take back Congress in November they should consider a government shutdown over the budget.
He is considering a run for the presidency in 2012 – and was recently in Iowa, where he called Obama "the most radical president in American history – which may explain some of the attempts to grab headlines.
But the divisive rhetoric has also earned criticism from those on both sides of the aisle. And it has hurt his reputation as a fiery conservative who is also a man of ideas, someone more likely to rely on intellectual heft rather than appeal to voters' basest fears or instincts.
---