Why did John Boehner change his mind now on Bush tax cuts?
(Read article summary)
There are a couple of reasons House Republican leader John Boehner may be relenting on extending the Bush tax cuts for the wealthy. Both have to do with Election 2010.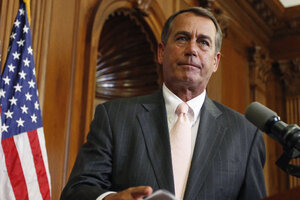 Carolyn Kaster/AP Photo/File
John Boehner appears to have softened his position on the issue of extending the Bush-era tax cuts. The House Republican leader on Sunday for the first time said he would support extending those reductions for the middle class but not the wealthy, if that was his only choice.
Why is he saying this now? After all, the Bush tax cuts have been an item of contention on Capitol Hill all summer. Until now, Representative Boehner and other GOP lawmakers have been adamant that a tax-cut extension should include everyone.
First of all, Boehner still says he believes a middle-class-only tax-cut policy is a bad idea.
"I don't think that's going to help our economy," said Boehner on "Face the Nation" on CBS on Sunday.
ON FACEBOOK: Join our conversation about Boehner and the Bush tax cuts
Republicans have long insisted that keeping taxes low on those at the top of America's income scale is the best way to help the private sector generate new jobs.
That said, why would Boehner vote for a tax approach he still believes to be flawed? Several political theories come to mind.
He's getting ready to be speaker of the House. With many polls showing it likely that the GOP will make big gains this fall, it's possible that Boehner will become speaker in the next Congress. That's a very different job than the one he now holds. The speaker has more responsibility for governing the nation – and that means more responsibility for actually getting bills passed.
---