Jerry Brown: Did he raise taxes as California governor, or not?
(Read article summary)
That question is at the heart of this week's dustup involving a 1992 CNN report, former rival Bill Clinton, and Jerry's Brown's current rival in the race for California governor, Meg Whitman. Hey, the answer is complicated, too.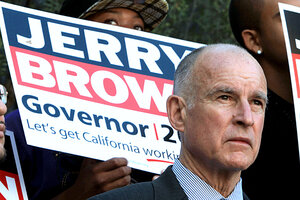 Rich Pedroncelli/AP/File
Did Jerry Brown cut taxes when he was governor of California from 1975 to 1983, or did he raise them? That question is at the heart of this week's Golden State dustup involving Mr. Brown, Bill Clinton, Meg Whitman, CNN, Factcheck.org, and a cast of TV attack ads now playing on flat screens up and down the Pacific coast.
To really understand what's going on here, we have to dial the way-back machine to 1992, and revisit the days when Brown and Clinton were verbally pummeling each other in the Democratic presidential primaries. It was two heavyweights going at it, round after round – Ali versus Foreman, Red Sox versus Yankees, Jon Gosselin versus Kate.
At one point, during a debate, Clinton attacked Brown for calling himself a tax-cutter.
"CNN, not me, CNN says his assertion about his tax record was, quote, just plain wrong," said Clinton at the time.
OK, let's return to today. Brown is running for California governor. (Hold it, are we really back yet? Brown is running for a job he had before he ran for that higher job, the one with the White House, which he didn't get? We're a little confused, but it looks like that's what's happening.)
GOP gubernatorial candidate Meg Whitman is airing ads that show footage of Clinton's '92 statement that Brown raised taxes on Californians. "He doesn't tell people the truth," said Clinton in that old debate, as shown in Ms. Whitman's new ad.
---