Mosque near ground zero and the tale of one Republican who backs it
(Read article summary)
An Indiana mayor, whose city helped the NYFD rebuild after 9/11, is one Republican who has no issues with plans for the mosque near ground zero.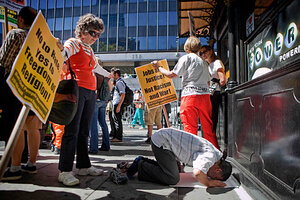 David Goldman/AP
Many Republican officials have come out against the proposed Islamic center a few blocks from ground zero.
In New York alone, there's former Mayor Rudoph Giuliani, former Rep. Rick Lazio, who is running for governor, and Carl Paladino, the billionaire Mr. Lazio is running against in the New York GOP primary on Tuesday. Nationally, Sarah Palin, Newt Gingrich, and Rep. John Boehner, the House Republican leader, have all come out against the proposed mosque and community center, called the Cordoba Initiative.
But there are some Republicans who say they have no problems with a mosque at that location. Among them are New York Mayor Michael Bloomberg, a Republican all his life until he ran as an independent in his third term, and Sen. Orrin Hatch of Utah, a Mormon and a key architect of the Religious Land Use and Institutionalized Persons Act, which prevents communities from enacting zoning laws that put undue burdens on and discriminate against houses of worship. Now, add Jim Brainard, mayor of Carmel, Ind.
---