Tea Party Express secret weapon: Chuck Norris?
(Read article summary)
The PAC for the Tea Party Express gave $237,000 to the Christine O'Donnell campaign in the days leading up to the GOP Senate primary. One fierce dude can be counted among its donors.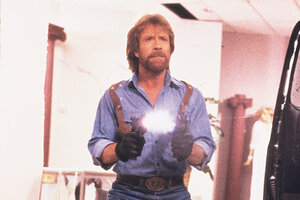 Cannon Films/Newscom/File
The Tea Party Express, the group whose cash helped Christine O'Donnell beat favorite Mike Castle in the GOP Delaware Senate primary, has a secret weapon: Chuck Norris.
That's right. Chuck. Norris. Action hero, famed deliverer of roundhouse kicks, and subject of hundreds of epigrammatic Chuck Norris facts, such as, "If at first you don't succeed, you're not Chuck Norris," and "Chuck Norris does not sleep. He waits."
Last Jan. 14, Chuck Norris wrote a $5,000 check to the Our Country Deserves Better political action committee, the Tea Party Express PAC, according to Federal Election Commission records we were leafing through on our lunch hour. He's listed as an actor/entertainer who lives at a Dallas Zip Code.
---