Latest challenge facing Christine O'Donnell: witchcraft TV clip
(Read article summary)
For Delaware 'tea party' Senate candidate Christine O'Donnell, witchcraft – and a 1999 talk show admission that she dabbled in it in the past – could prove a political liability.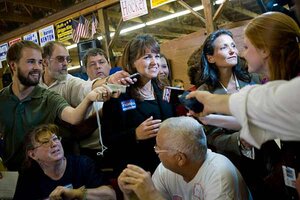 Jessica Kourkounis/AP
Christine O'Donnell does not now practice witchcraft. We'll say that right off. If she was an actual witch, we would not be having this discussion. The Ministry of Magic would have arrived during the night and wiped any memory of an O'Donnell-witchcraft connection out of our poor Muggle heads.
But she may face a serious problem related to her comments about witchcraft. And that could explain why Republican strategist Karl Rove, among others, remains dubious of her chances to win Joe Biden's old Delaware Senate seat in the fall.
Let's start at the beginning, for those who've arrived late and are standing in the back. More than a decade ago Ms. O'Donnell, appearing on comedian Bill Maher's "Politically Incorrect" show, made comments to the effect that she dabbled in witchcraft when she was a teenager. (Watch video.)
"I never joined a coven," she said.
O'Donnell canceled appearances on several Sunday news shows after clips of her old witchcraft talk surfaced. Since then she has made light of the whole matter.
---