Would 'one term' pledge get Jerry Brown past Meg Whitman in California?
(Read article summary)
Political analysts are split over whether Jerry Brown would gain anything over Meg Whitman by promising to stay in office as California governor for just one term.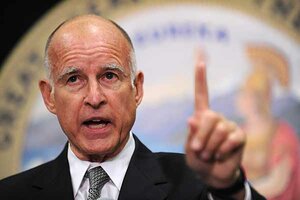 Robyn Beck/AFP/Newscom
In California's tight gubernatorial race, could less really be more?
California Attorney General Jerry Brown (D) is already spending less – way less – on campaigning than former eBay CEO Meg Whitman (R). What if he promised only to stay in office for a single term? That's the strategy a leading political writer in California has suggested as a way for Mr. Brown to produce the fireworks he needs to shoot ahead of Ms. Whitman in their race – now neck and neck with just six weeks to go.
"Handled right – perhaps sprung before a large TV audience during a campaign debate – it could alter the Democrat's widespread image as a career political opportunist," writes George Skelton in the Los Angeles Times. "Brown could cast himself as a committed native son determined to reroute the state back onto the right track. And he would have credibility as an aging pol looking to burnish his legacy for the history books and join his father [former governor] Pat Brown, as one of California's political greats. In addition, for anyone concerned about his age – 72 – it would guarantee that he'd step down at 76."
Is Mr. Skelton's idea spot-on or spaced-out?
"[Skelton] is absolutely right on all counts," says Barbara O'Connor, director of the Institute for Study of Politics and Media at California State University, Sacramento.
---