DREAM Act: Is Harry Reid angling for Hispanic votes?
(Read article summary)
The timing of Senate majority leader Harry Reid's push for the DREAM Act raises questions about whether it is an attempt to curry favor with Hispanic voters in his home state as he battles 'tea party' candidate Sharon Angle.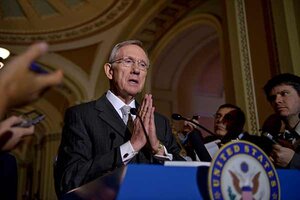 Scott J. Ferrell/Congressional Quarterly/Newscom
Why is Senate majority leader Harry Reid forcing a vote on the DREAM Act – a piece of legislation that has long been a priority of immigration-rights advocates and has little chance of passing?
Most of the political buzz this week has centered on the fate of a proposed repeal of the Pentagon's "don't ask, don't tell" policy for gays in the military, which was attached as an amendment to a crucial defense spending bill. But the DREAM Act was an amendment to the bill, too.
The bill failed to break a filibuster Tuesday afternoon, meaning Senator Reid will have to decide whether to drop the amendments, to attach them to other legislation, or to try again.
There are reasons for Reid's eagerness on the DREAM Act, which would offer a path to citizenship to some illegal immigrants who were brought to this country as children. It has enjoyed bipartisan support in the past. The Defense Department has called the DREAM Act necessary to maintaining a volunteer force. And the DREAM Act also has some high-profile military advocates such as retired Gen. Colin Powell.
Yet in the days before elections, most political calculations in Washington are with November in mind, and Reid finds himself in a tight Senate race. That has given the move the scent of political opportunism.
---