Kirsten Gillibrand the 'hottest' senator? What is Harry Reid thinking?
(Read article summary)
Kirsten Gillibrand, the Democratic senator from New York, is apparently the 'hottest member' of the Senate. So said Harry Reid in the latest in a series of gaffes by the majority leader.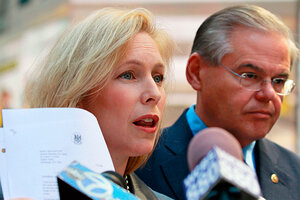 Brendan McDermid/Reuters
What's up with Harry Reid? The Senate majority leader lately has been saying stuff about other Democrats that he means as compliments but come across as kind of, well, off. Cringe-inducing, in a mild sort of way.
In the latest such gaffelette, Senator Reid, speaking in New York City at a fundraiser hosted by Mayor Bloomberg, referred to Sen. Kirsten Gillibrand (D) of New York as "the hottest member" of the Senate. Senator Gillibrand, who was there, turned red at this remark, according to Politico, which broke the story.
To be fair, Gillibrand in the past has made the "Most Beautiful" list of The Hill, a Congress-oriented newspaper. And Reid did go on to discuss Gillibrand's depth of knowledge about securities law.
(Hmm. Fundraiser. New York. Brings up securities. Maybe some of the people there were ... Wall Street bankers?)
---