Harry Reid's 10 biggest gaffes: Will his reelection bid suffer?
(Read article summary)
Nevada Sen. Harry Reid is fighting for his political life against Republican Sharron Angle, but his own tongue is also proving to be a formidable adversary.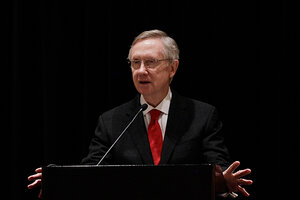 Julie Jacobson/AP
Kirsten Gillibrand is the "hottest" senator. Delaware Senate candidate Chris Coons is Sen. Harry Reid's "pet." And President Obama is popular because he's "light-skinned."
In Washington, and around the country, Democratic Senate majority leader Reid has become known for his gaffes.
In most cases, they're clear cases of speaking before he thinks – plus a tin ear for how statements may be perceived.
But in the age of blogging and 24-hour news, Senator Reid's comments can take on a life of their own – and reach a large audience.
And in the midst of a vicious neck-and-neck race for reelection against "tea party" favorite Sharron Angle, Reid may find that his tongue is his worst enemy.
Reid has been a lawmaker in Washington for 28 years. Here are 10 of Reid's biggest and most recent gaffes:
• Hot senator? This week, Reid referred to New York Senator Gillibrand as the "hottest member" of the Senate, at a fundraiser hosted by New York Mayor Michael Bloomberg. He says was making a joking reference to Gillibrand's place on the "Most Beautiful" list put out by Capitol newspaper The Hill.
---