Why is Obama taking on teachers' unions right before Election 2010?
(Read article summary)
The teachers' union vote is reliably Democratic. Yet before Election 2010, widely seen as a difficult one for Democrats, teachers feel that Obama is antagonizing them with his reform agenda.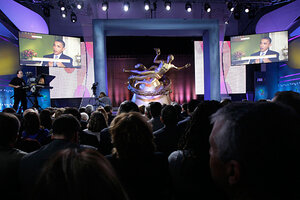 Richard Drew/AP
Why is President Obama pushing so hard against teachers right now, weeks before the election?
On NBC's "Today Show" Monday morning, Mr. Obama told host Matt Lauer that "nothing's more important than education," and advocated for controversial reforms, including getting rid of the worst teachers.
He also pushed for a longer school year and admitted that his daughters would not get as good an education in the Washington, D.C., public schools as they get at Sidwell Friends, the private school they attend.
"I'll be blunt with you. The answer is 'no' right now," he said, when asked by a Florida woman whether Sasha and Malia could get the same quality education at a Washington school. He added that "there are some terrific individual schools in the D.C. system" but said that it is "struggling."
And while Obama emphasized the importance of teachers – and announced plans to recruit 10,000 science, technology, engineering, and math (or STEM) teachers over the next few years – he clearly seemed prepared to ruffle some union feathers.
"You've got to have radical change, and radical change is something that's in the interest of students," he said. "We've got to be able to identify teachers who are doing well ... and ultimately, if some teachers aren't doing a good job, they've got to go."
---