What's Obama doing to try to fire up drooping Democrats?
(Read article summary)
Obama has busted out of Washington to try to regain some of the 'rock star' glow that fueled Democratic voters in 2008. He's also trying to prevent the election from being a referendum on him.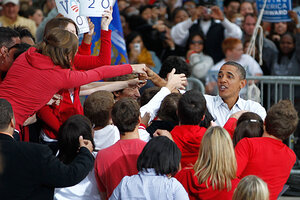 Charles Dharapak/AP
President Obama and the Democrats are facing the possibility of big losses in the coming 2010 midterm elections. With the vote now only a few weeks away, how is Mr. Obama trying to fire up his party for the fall?
He's the head of the party, after all, despite all those GOP bumper stickers urging voters to "Fire Nancy Pelosi." If Republicans win control of both the House and Senate, the next two years could be very tough ones for the administration. So it's his job, politically speaking, to get out there and try to raise the spirits of disgruntled and apathetic Dems.
Well, what he's done this week is break out of the White House grounds. Wednesday morning he's in Des Moines, Iowa, in the back yard of Jeff and Sandy Clubb, answering questions from 70 of their neighbors. (Have they been screened to try to keep people from asking embarrassing questions, such as the one Obama fielded at a similar event earlier this week about why he's a Christian? We'd say, "you betcha.")
---